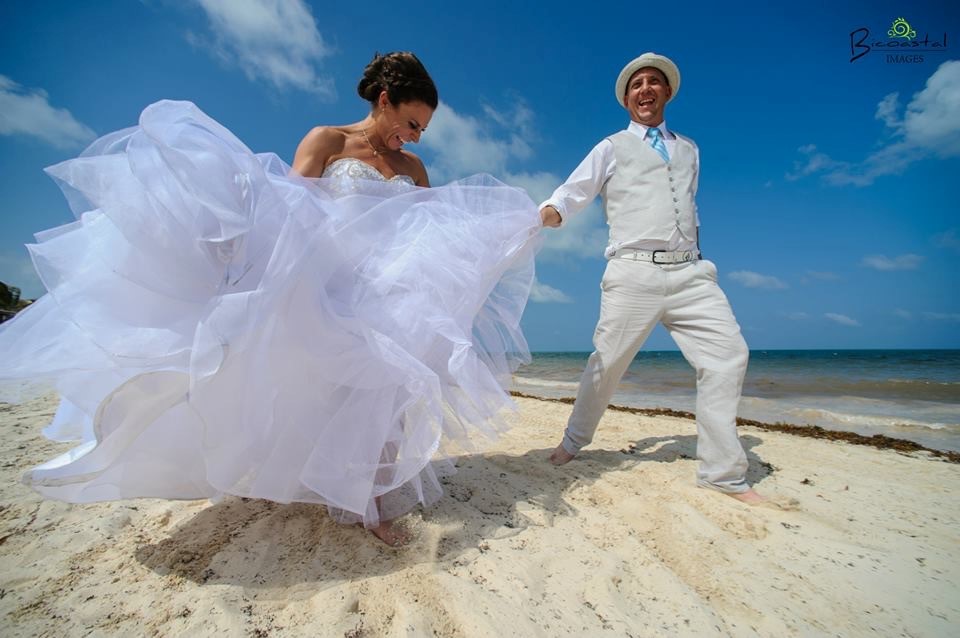 With so many couples now choosing to tie the knot in a destination wedding, there is often some confusion choosing one of THE most important elements of the special day: THE DRESS.
Traditionally, when a wedding takes place at home, the sky is the limit with wedding dresses.  It could be a treasured heirloom passed down through generations, old Hollywood glam, a simple lace silhouette or like many little girls dream of, a dress that is fit for a princess, an elaborate ball gown.  With so many choices, types of fabrics and styles, it would seem like an impossible choice, but the truth is, it comes down to one thing.  Personal Taste.  Most girls "just know" when they slip into that perfect dress of their dreams.
How to Choose YOUR Destination Wedding Dress
When choosing a destination wedding dress however, it can be a bit more complicated.  Normally the first thing the bride will do is go straight to our idea savvy friend, Google, & search "Destination Wedding Dresses".  The images that fill the screen are exactly what you might expect; simple, lightweight, flowy "beach wedding" dresses.  Certainly some beautiful choices, often modelled on the very stretch of beach you imagine your wedding will take place.  While these simple yet stunning dresses are what some will choose, for others it is an inner conflict with that little girl inside us all who may have dreamt of a Cinderella dress her whole life.
So….what's a girl to do?
Go with the breezy beach dress, or something more traditional?  There are a few factors in this decision: the theme of the destination wedding, any specific customs or traditions that will be incorporated, the location of the ceremony itself, the temperature & of course, most importantly, the bride's vision of her perfect day.
We had several of our past brides weigh in on this issue, after all, who better to ask than one who has been there!  Their answers were well thought out & sincere, with one common thread; while it may be more comfortable with breathable & lighter weight fabrics, ultimately most brides will go for style over comfort.  Brides want to feel AMAZING in their dress & look fabulous in the pictures that will adorn their mantle for many years to come.
So choose the dress made simply for you; the "tradition" of destination weddings is to be nontraditional, so go with your heart.  YOUR dress is the one that makes your mom cry and likely your groom as well.  It fits you in all the places you want it to and enhances every beautiful thing about you.  Your smile, being in YOUR dress will light up as far as the eye can see. You will feel every ounce the Princess you dreamt of as a little girl and the Queen you are today. As a destination bride myself, I 100% attest to that.  The dress I chose was ME & that's the only person I wanted to be on my wedding day.
~ Kristen Holt, Destination Wedding Planner